Posts for: September, 2018
By Arbor Hills Dental
September 20, 2018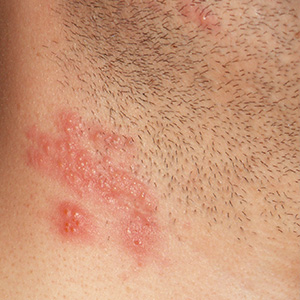 Shingles is a painful viral infection that could potentially recur in sufferers for years. It causes painful skin rashes, general nerve pain, fever and fatigue. In extreme cases, it can cause blindness if the eyes become infected. And because it's highly contagious, it could affect your dental treatment.
Formally known as herpes zoster, shingles is a recurrent form of chicken pox. If you contracted chicken pox in childhood, the shingles virus could lay dormant for several years. In fact, most people who contract shingles are over 50.
Because it acutely affects the nerves around the skin, the disease's most common symptom is a belted or striped rash pattern that often appears on one side of the body and frequently on the head, neck or face. While the severity of symptoms may vary among patients, shingles can be a significant health threat to certain people, especially pregnant women, cancer patients or individuals with compromised immune systems.
In its early stages, the shingles virus can easily pass from person to person, either by direct contact with the rash or by airborne secretions that others can inhale. Because it's highly contagious, even a routine teeth cleaning could potentially spread the virus to dental staff or other patients. Because of the significant health threat it potentially poses to some people, your dental provider may decline to treat you if you're showing symptoms of the disease.
To stay ahead of this, let your dentist know you're experiencing a shingles episode if you have an upcoming dental appointment, in which case you may need to reschedule. In the meantime, you should seek medical attention from your physician who may prescribe antiviral medication. Starting it within 3 days of a shingles outbreak can significantly reduce your pain and discomfort as well as its contagiousness.
And if you're over sixty or at risk for shingles, consider getting the shingles vaccine. This readily available vaccine has proven effective in preventing the disease and could help you avoid the pain and disruption this viral infection can bring to your life.
If you would like more information on dental treatment with shingles, please contact us or schedule an appointment for a consultation.
By Arbor Hills Dental
September 10, 2018
Dental crowns are an essential means for restoring damaged or unattractive teeth. A well-crafted crown not only functions well, it looks and blends seamlessly with the rest of the natural teeth.
Crowns are artificial caps that cover an entire visible tooth, often used for heavily decayed or damaged teeth or as added protection after a root canal treatment. Most crowns are produced by a dental lab, but some dentists are now creating them in-office with computer-based milling equipment. On the whole, the various crowns now available function adequately as teeth—but they can vary in their appearance quality.
In the early to mid 20th Century the all-metal crown was the standard; but while durable, it could be less than eye-pleasing. Although more life-like dental porcelain existed at the time, it tended to be brittle and could easily shatter under chewing stress.
Dentists then developed a crown that combined the strength of metal with the attractiveness of porcelain: the porcelain fused to metal or PFM crown. The PFM crown had a hollow, metal substructure that was cemented over the tooth. To this metal base was fused an outer shell of porcelain that gave the crown an attractive finish.
The PFM reigned as the most widely used crown until the mid 2000s. By then improved forms of porcelain reinforced with stronger materials like Lucite had made possible an all-ceramic crown. They're now the most common crown used today, beautifully life-like yet durable without the need for a metal base.
All-ceramics may be the most common type of crown installed today, but past favorites' metal and PFM are still available and sometimes used. So depending on the type and location of the tooth and your own expectations, there's a right crown for you.
However, not all crowns even among all-ceramic have the same level of aesthetic quality or cost—the more life-like, the more expensive. If you have dental insurance, your plan's benefits might be based on a utilitarian but less attractive crown. You may have to pay more out of pocket for the crown you and your dentist believe is best for you.
Whatever you choose, though, your modern dental crown will do an admirable, functional job. And it can certainly improve your natural tooth's appearance.
If you would like more information on dental restorations, please contact us or schedule an appointment for a consultation.